Some of you may know that I am trying to start up a little business from my home. I even went so far as to start a Facebook page to showcase & sell my wares. It's been a little slow going, but I'm seriously working on stuff.
So far, I have only sold one item from the Rustique & Chic page, but I've only just announced it about 2 weeks ago. I have so many more pictures to take of stuff, but everything is packed up at the moment and I have a craft show in a few weeks, so being basically lazy

(I know, laziness is not a strong point when you're trying to start a business)

I don't want to go digging through stuff and unpacking only to put it back and unpack it again for the show set-up. I'm also working on some new stuff to add to what I already have. I will be posting those to my shop and writing posts for this blog in early April. So watch for those!
The item(s) that sold was th

is

set of 3 shutters
The customer who bought th

ese

was only getting the shutters, because the wreath was not included, but it sure does look purdy on there, d

on't it?

S

he

has plans to hang a moss covered "R" from them instead.
The shutters started out as the standard dark honey varnished variety. The customer liked these because they reminded her of some she had seen on Miss Mustard Seed's blog. Hmmm...there's that name again, she

has

a huge influence on style right now

.
Did you notice that darling watering can too?
Just in case you missed

it, h

ere's a close-up.
I can honestly say that I've never seen one like it before. I don't know if you can tell that it has 2 handles. There's the large one at the top that's moveable, but there's another smaller one at the bottom that's stationary, although

i

t's kind of hard to see in this picture.
Cool! Right?
I freshly picked those

pussywillows

from my local Dollar Tree store. hee hee, yes

.

they're fake.

They just remind me of spring & I had to have them. I don't have any that grow naturally in my gardens, so I have to resort to fake ones, which are much more dependable anyway.
I'm just plugging away at these projects that are overwhelming my home and hopefully creating things that people want to buy. After completing these 3 shutters, I'm down to having only 2 unfin

ished ones left. Too bad it doesn't make a dent in how full my rooms are.
***********************************************
This project was Featured at Rustic Restorations for having the most clicks! Woo Hoo!
AND, these were also featured at Rustic Pig Designs!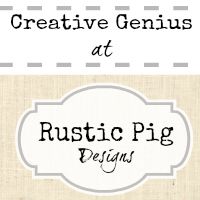 Parties I'm linking to: