I kind of want to call this post my "Un-Craigslist" chair find. I choose to give it that name based on a recent encounter with a Craigslist seller that pretty much left a bad taste in my mouth (& he wasn't the first either). If you want to read an entire post about it, you'll want to go back to my March 27th post.
Since I tend to go on & on about things enough as it is, I won't bore you with repeating that story here.
But, I do have some good news! I did manage to have a BEFORE picture of this chair. If you read my blog enough, you know I'm really bad about getting, or finding Before shots of the things I refinish.
There is actually 2 chairs that I found at the curb of the before mentioned Craigslist deal gone wrong, along with some other things you see here.
I just want you to know that I braved the mosquito infestation this morning to take these pictures. I think it was the quickest photo shoot I've ever done.
The one I worked on first is one that had a broken leg brace. So I fixed the break & decided to make it a garden chair.

The chair is still pretty sturdy, but I don't want to take that chance with anyone's safety, but it will hold a heavy planter of pretty flowers just fine.
I wanted to make it bright enough that you could see it out in someone's garden or a shady porch (like mine-not shown).
Using my Silhouette Cameo cutter, I made this design. I've always loved the quote "Time Began In A Garden", because my husband always thought that me having flower gardens was kind of senseless & a waste of time. I felt it was necessary to remind him of where time began. He doesn't say that anymore.
I think this scroll bracket was a freebie from the Silhouette store a little earlier this year. Did you know that they offer one free design each week? They choose the design, but they do pretty good about selecting decent ones. Anyway, I felt this one was perfect for the front of the seat. It fit the curve nicely without getting blocked by having a potted plant or vingette sitting on the seat.
The blue is more of a teal blue color and I just used a Glidden sample bottle that I got at Walmart. The color is WGB09 Deepest Aqua. The green is an Apple Barrel brand acrylic paint in Pale Green, also from Walmart.
I love those set-back spindles and I wanted to accentuate those by painting them in the green
accent

color.
If you look closely, really closely, you can see the break in the "cr" letters of the word Scrap in my watermark.
I traced the Petunia/Morning Glory image from clipart I found online, as well as the butterfly, in the Designer software add-on for my Silhouette.
The font is Guttenberg MF and can be downloaded for FREE at Dafont.com.
This is just a close up of the white accent painting I did in the grooves at the back of the chair.
I sprayed the entire chair with Krylon Clear matte spray sealer and called her good and took a day of rest

(actually I didn't rest, I have more projects to finish).
This project has been featured at these blogs:
PJH Designs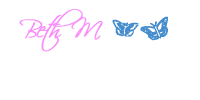 Parties I'm linking to: