My schedule for trying to get some stuff completed has not started off too well this year.
I had started on a word sign just like this image. I've altered many of these signs in the past for craft shows and special orders for customers.
Here are some examples of others I've made:
This was the very first one. I was inspired to start making these by my good friend and extremely talented scrapbook acquaintance, Barb C. - she made one first and I was just in love with her design that I nearly copied it exactly.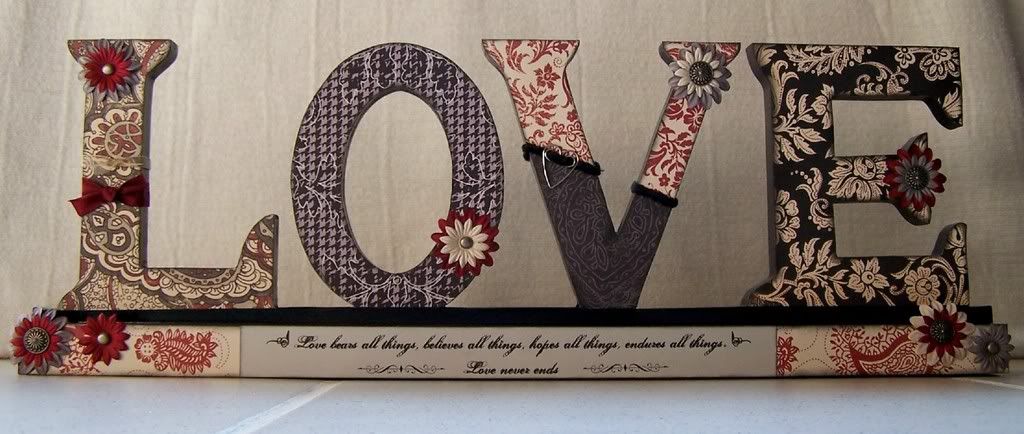 This was the immediate 2nd one I made, since I was (& still am) in love with this color combo.
This was a quick last minute sign I made for a craft show. I don't know why the picture is so stretched in height, but it doesn't want to be fixed right. sorry. If you click on it, you will see the normal view of it.

I liked it, but felt it needed more "stuff." It sold just fine without the extra "stuff."
This was the first one I made using the

Believe sign

. This one was a special order and I used my Cricut to cut out many of the designs for it.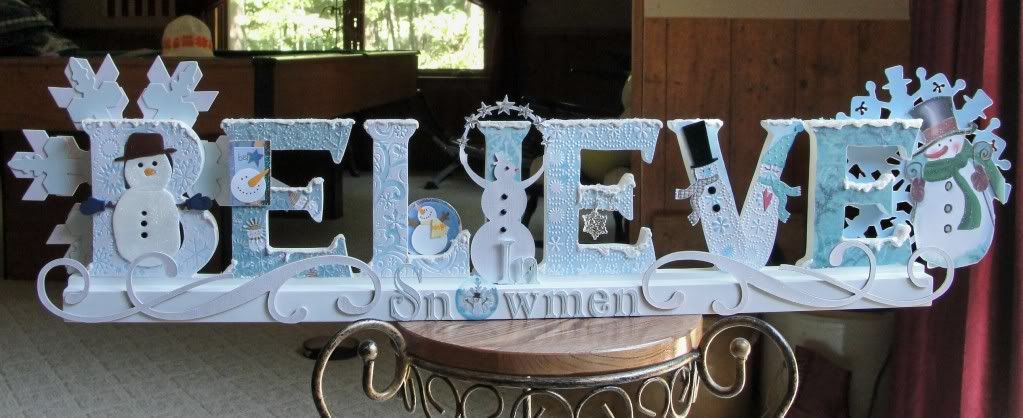 This was another special order sign from the same lady that special ordered the Snowman Believe sign above.

I made another after this one that was in the same color scheme, yet quite different. I don't have a photo of that one in my laptop, but you kind of get the idea of how I make these.
Anyway, I had another one that was special ordered right before my last craft show in December. It was ordered by my hubby's boss' wife. No pressure. none. whatsoever. I started on it right away, even though I was still working on crafts for my show. I almost had it done in time to take it to her at the company Christmas party, but I was a little stumped on what else to do with it at that point. Now it's done, except for one small detail that kind of has me stumped again, but I may just nip it in the bud today. I hope I have it figured out, and that it works and looks as good as it does in my mind's eye. I'll be sure to share the finished project when I'm done. If you're lucky.....tomorrow!
Then, it's on to finishing a pink/black Graduation mini album I started last year.....
God Bless & have a great day!